Description
Capto – The latest in Putting Data collection.
Technology and real-time analysis come together in the Capto Putting system to provide information that can improve your golf game. With this putting aid, coaches can extract relevant parameter measurements and make technique suggestions for their golfers. 
The Capto Precision Putting Technology is easily applied on every putt with its easy use and friendly user interface. We believe that knowledge is potential power, and knowledge about your putting stroke really can take any golfer putting to the next level. Capto will give you information that can complement your teaching unlike any other putting analysis system since it can be used in real-time, real contextual environments i.e. the golf course.
Capto has many benefits and offers accurate technology that can be used by any golfer interested in applying physics to take their golfing game to the next level. 
The Capto Putting System captures all parameters of putts and displays them in real-time:
✔︎ Path to Arc
✔︎ Directional and height acceleration
✔︎ Forward press
✔︎ Total swing time
✔︎ Face, shaft & lie angles
Used by World renowned golf teachers across the globe and numerous PGA Tour players.
Advantages:
•Up to 400 frames per second.
•Very Light and easily applied on every putt.
•Easy to use, direct results and immediate feedback.
•All parameters are detected and displayed in real time.
•Compatible with Windows, MacOSX, Android and IOS.
•Capto allows training anywhere, anytime and in any weather.
•Works with a radius of 50 meters with its wireless technology to play freely on the green.
•Designed and developed by precision, this putting analysis system has an ultra compact sensor that transmits accurate putter movement data and a software that calculates the most important mechanical and biomechanical parameters.
WHAT'S NEW?
AIM FEATURE
Record more then one target each session, add aim face number and LAB page, understand where the player is aiming automatically, live biofeedback sound for good or bad aim, live aim compass. All embedded into the Capto sensor.
LIVE MONITOR DISPLAY
Feedback data even when the device isn't connected to the software. Display will show you 3 parameters FaT, LoD, AoA and the display hood helps visibility. Switch display mode off at any time!
LONGER BATTERY LIFE
Up to 180 minutes of battery life.
NEW & IMPROVED SHAFT FIXING
Screw no longer needed for connecting device to the shaft.
USB C
New unit uses USB C rather then Mini USB for charging.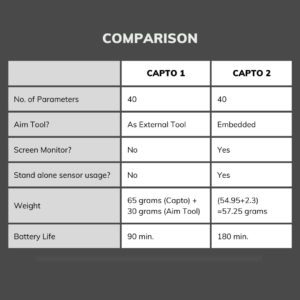 For more information go to: www.captogolf.com