Description
HackMotion is a wearable wrist sensor motion capture device that analyses your movement and then provides feedback on how to improve performance on the golf course.
This is the first specialist wrist motion detection device on the market – it's a fantastic tool for coaches and players alike.
Analysed in real-time by powerful software, the sensor measures wrist angles in 3D – designed for full swing analysis and your short game too. The device attaches to your lead wrist and measures a number of aspects of your wrist position at the address, the top of the swing, and impact with the ball.
The device captures information on all aspects of wrist movement including extension/flexion parameter, ulnar/radial deviation parameter and rotation parameter. You will also receive biofeedback in real-time as well after the swing.
The sensor is placed on the wrist much like a wristwatch – it will only take a few seconds to calibrate and you are ready to go. It then captures swing details automatically and information is instantly displayed on any connected device such as a smartphone, tablet, or laptop.
The sensor has a 7-hour intense operation battery life, and re-charges fully in 2 hours. And one of the most interesting features is that ability to compare your performance to TOUR players, as well as using biofeedback to improve your game.
Whether you are a player interested in working on the technical side of your game, or a coach who wants get a broader insight into students' technique, the HackMotion can be a fantastic option.
Latest Coaching Technology!
MEASURE, DON'T GUESS
Precise wrist data shows you what actually happens during the swing. Flexion & Extension, Ulnar & Radial Deviation.
REAL-TIME BIOFEEDBACK
Real-time audio feedback for positive/negative reinforcement. By the Numbers, Shot Recording, and Live 3-D Modeling.
BRILLIANTLY SIMPLE TO USE
Put it on as a wristwatch, no wasting of your lesson time for setting up.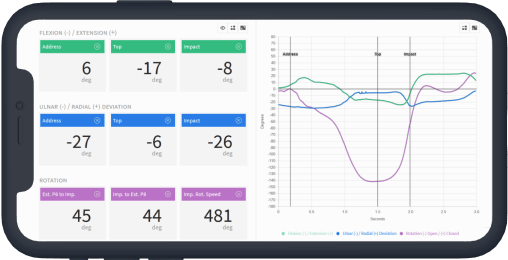 Get a complete set of wrist data
Measure, don't guess! The Full System of Hackmotion provides complete motion capture for flexion/extension, radial/ulnar, and rotation.
The data is shown as tiles, graphs, and 3D hand models for full swing, pitching, and putting. You can do an in-depth analysis of a player's motion pattern and compare it to PGA tour player data.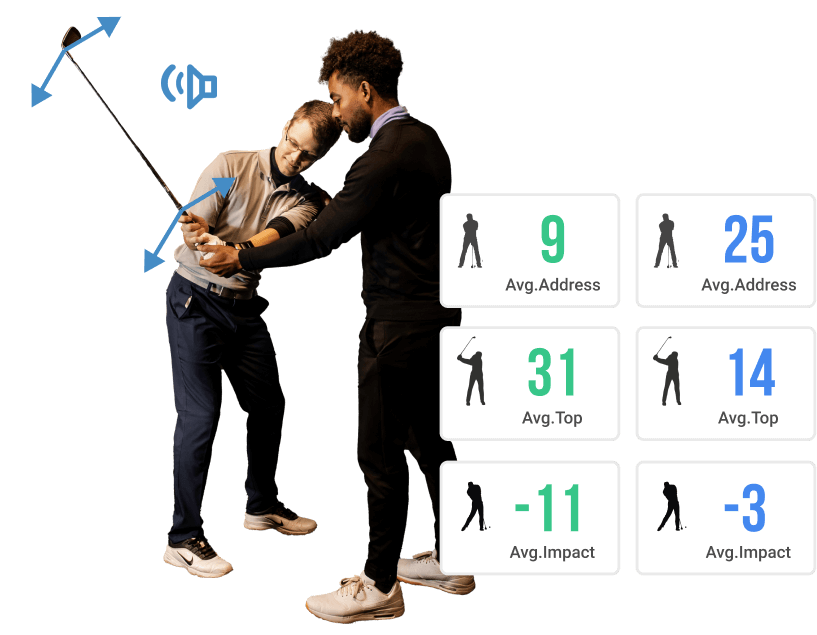 Provide students with audio feedback on all metrics
Student's feel, ain't real so use our audio feedback to guide your players to the correct wrist position.
The sound signal will play only when the player is in the desired wrist angle range, giving instant feedback when the player is making the correct motion and speeds up learning process.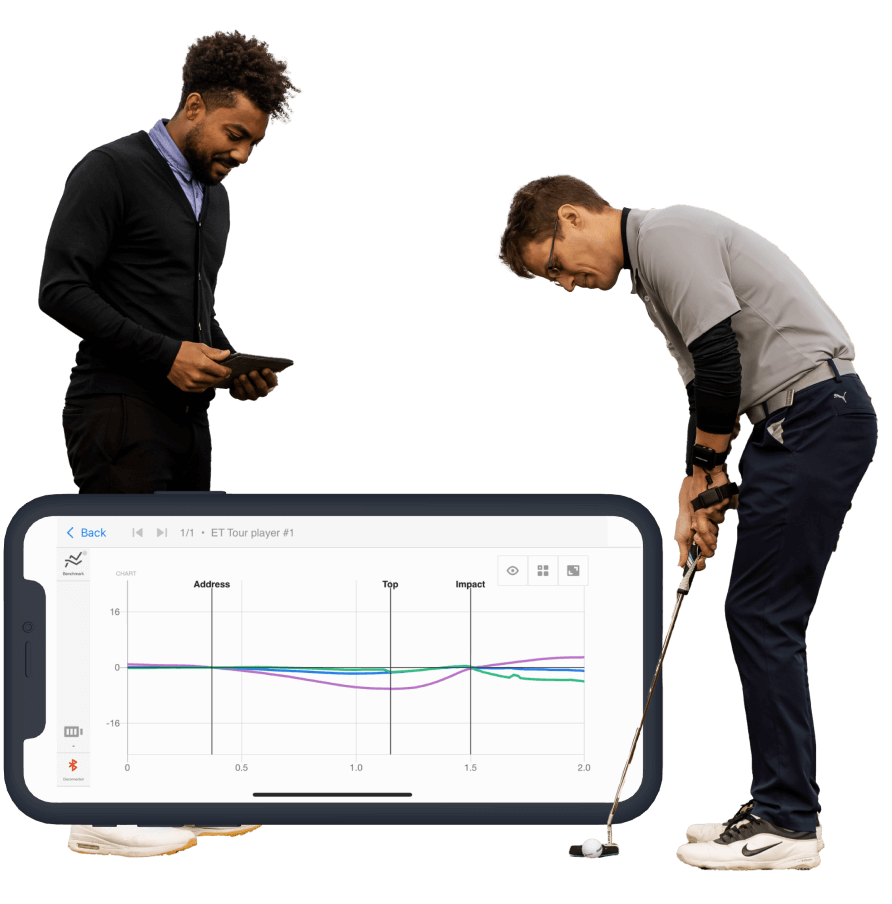 Advanced analysis of your student's putting stroke
Putting analysis mode provides detailed data on your student's putting stroke – flexion/extension, radial/ulnar deviation and rotation.
This is great for identifying what motion is causing inconsistency and quickly fixing it.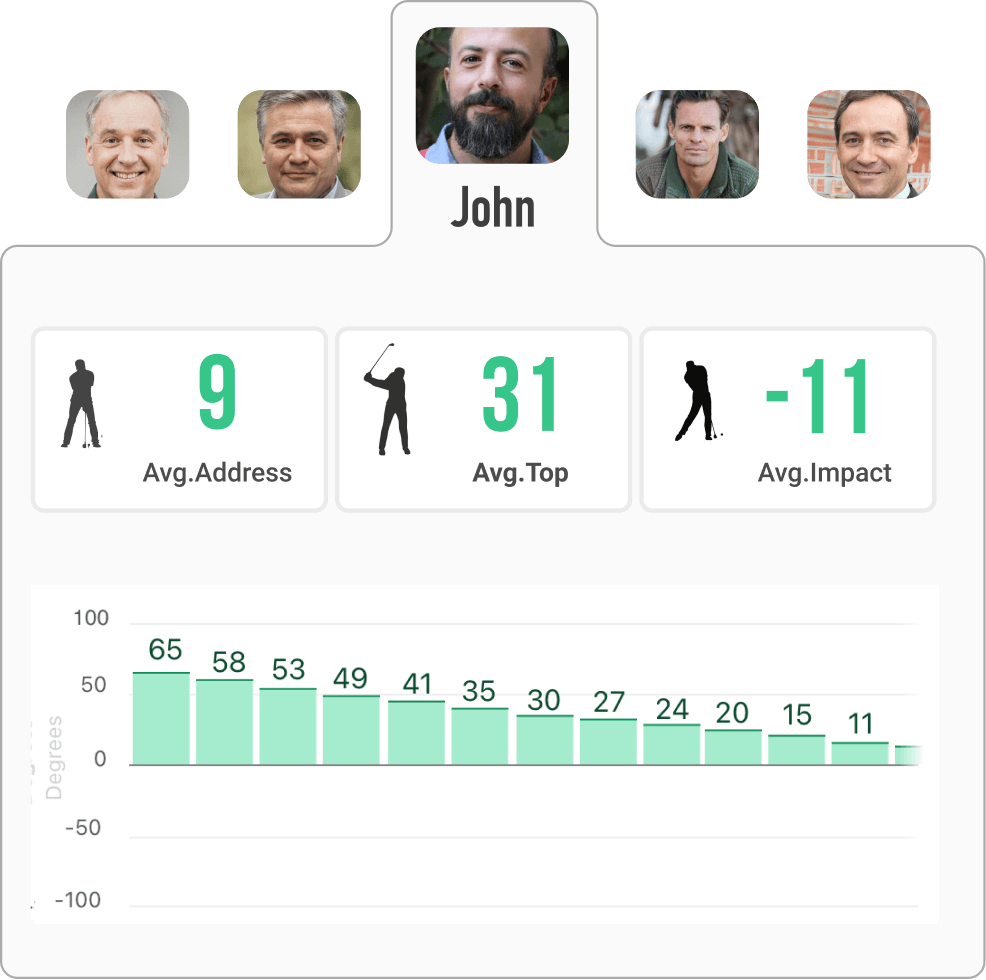 Student profiles and progress tracking
Create a profile for each student and track their progress after each session.
Session summary screens will provide data on all the shots so you can easily monitor students' progress and send session reports with the data.