Voice Caddie SL2 Active Hybrid GPS Laser Rangefinder With Green Undulation
$849.95 inc. GST
Free Shipping Australia Wide
The SL2 is the most advanced rangefinder ever developed!
Official Rangefinder of the LPGA
Used by PGA Tour, European Tour and Champions Tour Player
The SL2 captures the highest essence of technology in one, state-of-the-art laser rangefinder. An active hybrid GPS laser
rangefinder, the SL2 integrates into its high-resolution touch screen, dynamic green undulation and course layout graphics, and
distance readings. In its scope is a bright multi-color OLED display with best-in-class optical clarity. The SL2 integrates slope
compensation, advanced stabilization, ultra-high-speed processor, and noise filtration to present the most advanced laser
rangefinder ever developed.

MAIN FUNCTIONS
• True Hybrid GPS/Laser Rangefinder
• GPS Pin Assist: Utilises GPS Data to Filter background and Hone in on the Pin
• Slope Integration with Tournament Mode
• Colour Touch LCD Screen
• Course layout/ GPS yardage view
• Green Undulation, Course Layout View
• Continuous Scan Mode (Normal Mode)
• Vibration on Target Capture (Pin Mode)
• 2 Color OLED for Low Light Play
• Optical Angle/High Clarity Lens
22 in stock
Description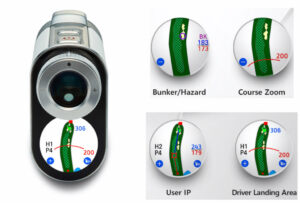 Only logged in customers who have purchased this product may leave a review.